Divorce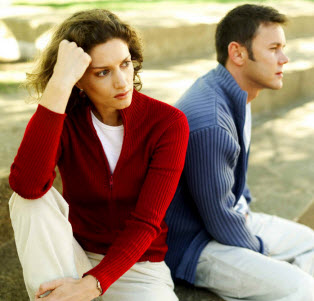 Divorce (legally known as a "dissolution of marriage") is never an easy thing. Whether your divorce is uncontested and simple or bitterly contested and complex, our attorneys can help you achieve your goals. We will listen carefully to the circumstances you are in and tailor a plan based on your hopes for the future. If you are considering filing for divorce, or if your spouse has already filed, talk to a divorce attorney as soon as possible. We are committed to our client's matters and listen carefully to all your concerns. At Wright Kim Douglas, our lawyers are experienced family law and divorce lawyers, and have represented clients in the greater Los Angeles County and neighboring southern California counties.
California is a "no fault" divorce state, which means that the spouse that is asking for the divorce does not have to prove that the other spouse did something wrong. To get a no fault divorce, one spouse has to state that the couple cannot get along. Legally, this is called "irreconcilable differences." Also, you must be a resident of the State of California for at least six months to initiate the divorce process in California. There are different requirement for legal separation.
In California divorce law, one spouse must file for divorce with family court to initiate a divorce or legal separation. The other party than has 30 days to respond to the divorce petition. While it does not matter to the court which party files for divorce, there may be reasons why you would want to file for divorce quickly. Once you have served the other party with your divorce petition, both sides are automatically barred from disposing of, misusing or hiding assets. This automatic bar is also referred to as Automatic Temporary Restraining Orders (ATROS).
It takes at least six months to get a divorce processed after filing, although some cases take longer. Before the case is tried in family court, both sides will try to reach an agreement on issues such as:
Child custody

Child support

Child visitation

Spousal support (alimony)

Division of community property

Division of community property debts

Payment of attorney fees and costs of suit
Some divorces turn contentious quickly, because one spouse (and his/her divorce attorney) thinks it is going to give them an advantage. For example, it is not unusual for one party to make accusations of domestic violence or any other form of abuse against the other party to gain the upper hand in child custody negotiations. These accusations, as well as other aggressive tactics, need to be dealt with promptly or you could be greatly harmed.
Our divorce attorneys at Wright Kim Douglas will fight those battles and zealously advocate for you if necessary. However, we try to avoid those types of divorce conflicts if we can since they can become very costly. Whenever possible, our lawyers will work to help you end the conflict and reach a resolution.
The final step in the divorce process is the judgment. The judgment will be filed with the court and will formalize the legal issues that were determined during the divorce. Once the judgment has been entered by the court, your divorce will be official.
The divorce attorneys at Wright Kim Douglas work to achieve a reasonable resolution of matters surrounding the dissolution of a marriage. This can reduce legal costs, result in a less stressful process, and lessen harmful emotional effects felt by the children in the marriage. That said, our divorce attorneys understand that divorce is a stressful and emotional time; and we encourage you to take all the time you need to deal with your emotions before entering into serious negotiations with your spouse.
Divorces that are of substantial high net worth and complex can often times be caught up in an embroiled fight to no end. At Wright Kim Douglas we work with a team of forensic professionals to untangle the complex issues and fashion a reasonable resolution based on the circumstances. On the other hand, we have represented clients in matters requiring further litigation in court. In those instances, we are prepared and advocate your position zealously.
For a consultation, call (626) 356-3900 or contact one of our divorce lawyers online. If you are going through or thinking about filing for a divorce, please contact us so we can discuss what your rights and options are. We represent clients throughout Southern California and neighboring counties.